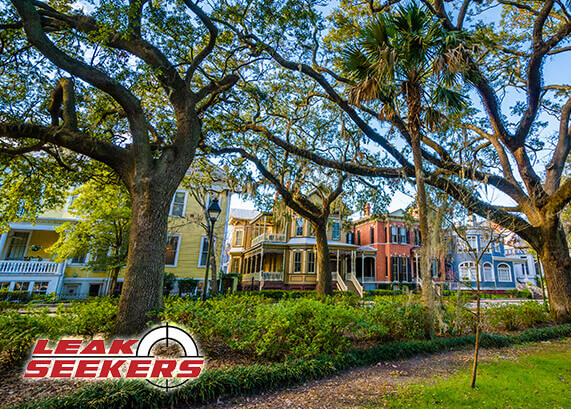 Savannah, Georgia
Leak Seekers
---
If you have real estate property in the Savannah, Georgia area, you likely care about it and want to preserve the value. A hidden water leak could be the cause of an unusually-high water bill or the presence of moisture in unsuspecting areas.
Leak Seekers can find any water leak, even those underground or under your swimming pool. No matter where the source is at, the professional team at Leak Seekers will find it without destroying your property.
Give us a call today for free information on finding and fixing your water leak.
Do you need help finding your water leak?
Leak Seekers is ready to assist. Call now to speak with a leak detection specialist. We use state-of-the-art technology to take the guess work out of locating your water leak. Leak Seekers proudly serves Savannah, Georgia and the surrounding communities, including Bluffton, Richmond Hill, Pooler, Hilton Head Island and many more wonderful neighborhoods. Give us a call and let us find your leak!
Call 912-712-6622
Please leave us your review on Google!
Leak Seekers is striving to be your water leak detection company for life.
Your opinion of the care we provided to you is important to us--and to others--so please take a moment and provide an honest review.
Google Business Profile